Philosophy and principles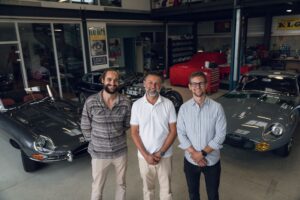 RetroRoadster specializes in the restoration, improvement and recreation of the Type E, iconic Jaguar model.
Our approach does not limit itself to the restoration, but proposes subtle esthetic enhancements and mechanical improvements, in the spirit of the original model and its époque.
These audacious choices are guided by our desire to enable you to live with your car on a daily basis and "have the best of both worlds":
own a classic car without compromising the modern-day standards of comfort, safety and reliability.
5 principles we always respect
No compromises on quality
Hand-finished operations
Best mechanical parts and materials
Suppliers, partners and artisans who share our vision and standards
Advise and accompany our clients in their personalization choices
Relying on his engineering background, Corneliu Nastase always looks out for improvement opportunities. Modest and discrete, he will not readily boast that RetroRoadster was the first French company to install an electronic injection system, or a fully electric water pump on a Jaguar Type E. Several years later, this is an option offered to all our clients.
The improvements Corneliu developed are the basis for the daily work his team accomplishes today.
Retro Roadster has created an ecosystem where quality and excellence are the standard.
Every car is entirely restored and refabricated by hand.
A passionate team
The RetroRoadster mechanics are passionate about their work and accomplish small miracles on a daily basis, intervening partners are chosen for their reputation and expertise in their domain, while our trimmers create works of art from the finest leathers and materials.
They all have one thing in common: the passion for a job well done. The measuring unit is not time, but the quality and homogeneity of the final result.
Every team member shares the same vision and takes pride in producing a car that you will be proud of. We apply the same criteria to our suppliers: the components we use are selected for their quality, robustness and performance and are often superior to the original ones.
From a technical and mechanical point of view, RetroRoadster proposes multiple solutions aimed at improving reliability and performance. We will guide and help you decide, depending on the intended use of your car.
Some of the proposed improvements
Improved brakes with aluminum calipers and vented disks
Electronic ignition
Exquisite, handmade stainless exhaust  and manifolds
Bespoke, handmade aluminum radiator true to the shape of the original
Modern, integrated and electronically controlled cooling fans
Reinforced and adjustable height suspensions
5-speed gearbox conversion
Improved and balanced engine
Convenience features, such as USB charging, audio or navigation systems
Esthetically, your E-Type will be unique: this marvelous car with its subtle and luscious curves is the symbol of lightness and finesse.
Whether in coupé or convertible, the balanced proportions are a hymn to beauty and an invitation to enjoy life at the wheel!
Personalization
An interior in a color combination of your choice, realized in the finest leathers and hides available.
Legendary Borrani wheels, for which Retro Roadster is the official French distributor.
A large choice of period-correct bodywork colors, especially selected by us to complement the curvy forms of the E-Type.
Carefully chosen accessories adding a unique touch to your Jaguar E-Type.